Hot Ajvar 190g
SKU:
ETA205819
EAN:
3831029507518
Brand:
Natureta
Unit:
purk
Qty:
In Stock
Hot Ajvar 190g
Hot Ajvar was created for the lovers of spicy flavours. It is great as a starter or a side dish and more frequently also as a salad. For an excellent and a bit uncommon taste, serve it with water and curdled milk, as it is done in Middle and Far East for thousands of years. Natureta guarantees excellent taste with a proven home-made recipe based on a long tradition.

The spicy Ajvar contains eggplant, peppers and chilli.
This spicy Ajvar is suitable for any main course, as well as for bread and bread spreads.

Ingredients: red pepper 80%, eggplant 6%, sunflower oil, sugar, salt, vinegar, spices, chilli pepper 2%, natural flavors

Average nutritional value per 100g of product:
energy 353KJ / 85kcal
fats 4.4 g of which saturated fatty acids 0.6 g
carbohydrates 8.6g, of which sugars 7.0g
fiber 2.8g
proteins 1.3g
salt 1.4 g

Store at room temperature. After opening, keep cool and use within a few days.
Origin EU, producer Slovenia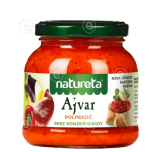 Semi-hot Ajvar 290g
SKU:
ETA205813 ,
EAN:
3831029507570 ,
Qty:
In Stock
,
Color:
2,70 €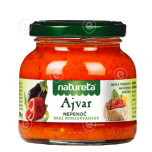 Mild Ajvar 290g
SKU:
ETA205815 ,
EAN:
3831029507457 ,
Qty:
In Stock
,
Color:
2,30 €
Special price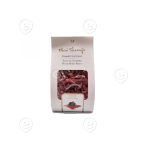 Pasta Refošk punase veiniga 200g
Käsitööna valminud.
SKU:
VINA725035 ,
EAN:
3830053725035 ,
Qty:
In Stock
,
Color: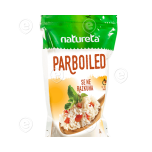 Parboiled Rice 1kg
SKU:
ETA203971 ,
EAN:
3831029517746 ,
Qty:
In Stock
,
Color:
2,99 €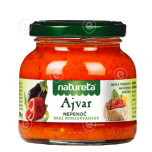 Mild Ajvar 290g
SKU:
ETA205815 ,
EAN:
3831029507457 ,
Qty:
In Stock
,
Color:
2,30 €