Fructal gift pack 2xjuices + glass
SKU:
FRU037648
EAN:
3838945037648
Brand:
Fructal
Unit:
kompl.
Qty:
In Stock
Peach and apple juices + glass
The gift package includes:
Vipava valley peach juice / nectar 1 liter
Apple juice 1 liter
Juice glass 1pc
Convenient gift box


The Vipava Valley (Vipavska Dolina in Slovenian) is located in western Slovenia against the northern Italian border.
Peach nectar

Peach nectar from the Vipava Valley is produced exclusively from peaches grown in the valley and matured in Ajdovščina.
Vipava valley peach nectar contains 50% peach puree, water, sugar, glucose-fructose syrup, binder juice.
The average nutritional value of peach nectar per 100 ml
energy 216kj / 50 kcal
fat 0.0g, of which saturated 0.0g
carbohydrates 12.1 g, of which sugars 8.4 g
fiber 0.7g
protein 0.3g
salt 0.0g
Once opened, store in a cool place and use within 3 days.
2. Apple juice
Apple juice is cloudy and not sour.
Ingredients:
 100% apple juice
Average nutritional value of apple juice per 100ml:
energy 205kj / 48 kcal
fat 0.0g, of which saturated 0.0g
carbohydrates 11.5g, of which sugars 10.3g
fiber 0.14g
protein 0.1g
salt 0.0g
Once opened, store in a cool place and use within 3 days
Origin EU, produced in Slovenia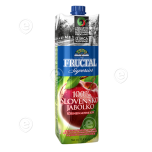 100% Apple juice 1L
SKU:
FRU509060 ,
EAN:
3838945509060 ,
Qty:
In Stock
,
Color:
1,80 €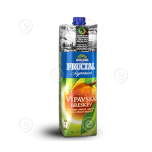 Vipava valley peach juice 1L
SKU:
FRU028813 ,
EAN:
3838945028813 ,
Qty:
In Stock
,
Color:
1,99 €