Out of stock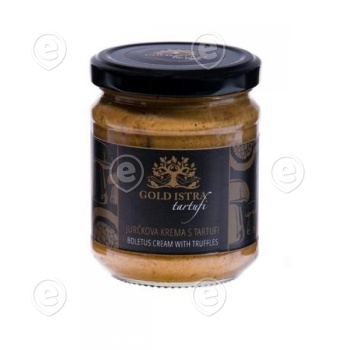 Zoom
Boletus mushrooms crem with white truffles 40g
SKU:
JKT40
EAN:
0217660008653
Brand:
Gold Istria
Unit:
purk
Qty:
Out of Stock
Boletus mushrooms crem with withe truffles 40g
The boletus and white truffle cream achieve a perfect balance. The intense taste of boletus and the refined taste of white truffles are ideal, creating a pleasant combination. The cream is excellent for preparing both simple and tasty foods.

Ingredients: boletus (Boletus edulis) 90%, extra virgin olive oil, white truffle (Tuber magnatum pico) 3%, salt, spices.

Average nutritional value per 100 ml of product:
energy 380kJ, 91 kcal
fat 7.5g of which unsaturated 1.0g
carbohydrates 0.9g of which sugars 0.9g
protein 3.6g
salt 1.20 g

Storage: keep open for 1 week, store in a refrigerator after opening.
Origin EU. Made in Slovenia.