Special price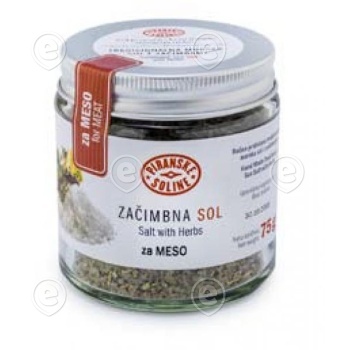 Zoom
On the Slovenian coast, where the River Dragonja flows out into the Adriatic Sea, the Piran Salt Pans were formed more than 700 years ago. These are the only salt pans still in operation in this part of the Adriatic, and they maintain the traditional process of making salt by hand. Here, using the traditional method of salt harvesting typical of the Mediterranean, the saltmakers obtain mineral-rich sea salt just as they have always done. The Piran Salt Pans have been preserved as a typical salt pan ecosystem of international importance for nature protection. This ecosystem evolved through the long action of humans, and is populated by rare fauna and salt-tolerant plant species. It is made up of a mosaic of varyingly saline fields, wetlands, canals and reed beds, as well as halophyte meadows, all closely tied to the cultural heritage of saltmaking in Slovenian Istria.
Natural production of salt requires favourable weather conditions, which will allow crystals to form on the surface of the water. Yet the greatest mystery involved in the quality and natural whiteness of the Sečovlje salt is the argillaceous bed of the salt fields, covered with a fine layer of petola - a bio sediment base composed of minerals and microorganisms. The knowledge involved in proper handling of petola, which must be cultivated anew each year,is handed down from generation to generation. It plays a very important role - first and foremost it prevents the mixing of salt and sea mud, rendering the salt so pure andwhite, and on the other hand it also represents a kind of biological filter. When the petola has had several months to get ready in the crystallisation basins, there are then several weeks of gradual flooding and evaporation of sea water and the condensing of the salt. Movement of the brine lasts until a certain concentration of salt is achieved, marked by the first formation of simple crystals on the crystallization basins called "cavedins". Since the salt is harvested straight away and is therefore termed "one-day salt", its crystals are tiny and fragile, and high in quality.
Traditionl Sea Salt has a specific taste, which is not distinctly salty, but is exceptionally rich and full.

Seasonings are welcome in every good kitchen, since they give food a distinctive aroma, a noble taste and a colourful appearance. The mixture of traditional sea salt and selected seasonings improves the taste of different meals, fish, meat and vegetables.
Store in a cool, dry place.
Ingridients:
Unrefined iodized sea salt 88%, herbs 12% ( savory, thyme, rosemary, oregano, majoram, fennel). May contain traces of
Cellery
.
Uses:
 For Meat Dishes
Flavour:
 Salty
Free from: 
Flavour Enhancers, Artificial Flavours, Artificial Colours, Preservatives
Origins:
 Slovenia, EU