GITKOZ Goat chees with black truffles 320-500g
GITKOZ Goat chees with black truffles 320-500g
Goat cheese with truffles is a real taste.
We recommend our orange wine Rebula Classic 2017

The truffles give this beautifully mild young cheese a truly luxurious taste. Goat cheese with truffles is perfect after dinner or as an appetizer.

Ingredients: pasteurized goat's milk, rennet, salt, black truffle (Tuber aestivum) 3%
Does not contain preservatives. 

Average nutritional value per 100 ml of product:
energy 657kJ, 157 kcal
fat 15.0g of which unsaturated 2.0g
carbohydrates 1g, of which sugars 1.00g
fiber 3.0g
protein 3.0g
salt 1.50g

Storage: Store at a temperature of +2 to + 8C.
Origin EU. Made in Slovenia.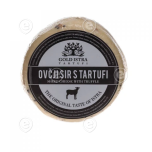 GITOVC Sheep cheese with truffles 320-500g
SKU:
GITOVC ,
Qty:
In Stock
,
Color:
17,99 €