Out of stock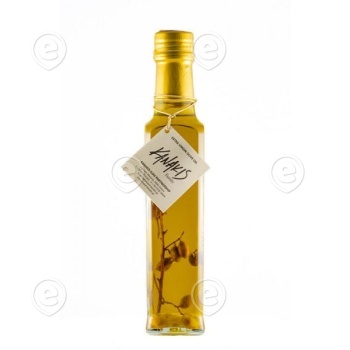 Zoom
Extra Fresh Olive oil Agoureleo BIO 250ml
SKU:
KRE100900
EAN:
5200107650923
Brand:
Kanakis
Unit:
pudel
Qty:
Out of Stock
Extra Fresh Oliveoil Agoureleo BIO 250ml
Dark green virgin olive oil from the first olives pressed (first harvest). Olive oil is unfiltered, acidity 0,2%
At the time of bottling, add the olive branch with the olives to the bottle. Bio product.

Ingredients: 100% extra virgin olive oil with olive branch.

Average nutritional value per 100ml of product:
energy 3425kj / 818kcal
fats 92.4, of which saturated 13.4g
carbohydrates 0.0g, of which sugars 0.0g
protein 0.0g
fiber 0.0g
salt 0.0g

Organic product, BIO certificate

Manufacturer: Kanakis, Greece, Origin Greece, manufacturer Kanakis family company.

Info:
Kanouris Agoureleo bio olive oil is produced from the first olives and is mechanically pressed unfiltered oil.
It is this olive oil that is known for growing "Koroneiki" in a special location and climate on the Messianic Peloponnese.

The olive oil is pressed "cold" using state-of-the-art technology immediately after harvesting the olives, which helps to reduce the oxidation of the wood, which is why the taste, smell and ingredient of the olive oil are the most correct.

Kanouris Agourelelo Bio olive oil always contains small particles of olive tree, which give the olive oil its taste nuances. The formation of sludge is also natural for olive oil, and this very special fresh oil has a slightly shorter lifespan and is reasonable to use within 36 months of opening the bottle.

In addition to essential fatty acids, unfiltered olive oil contains a small amount of other beneficial properties such as vitamins A and E, minerals, selenium and various antioxidants. Antioxidants help protect cells from oxidative stress, active oxygen and free radicals. Agoureleo is also a product with a very low acidity of only 0.2%.
In particular, it is desirable to eat raw olive oil, ideal for salads, potatoes, bread cubes, eggplant, garlic, parsley. In addition, with vinegar, lemon, nice cheese and also oregano and thyme.
 
Therapeutic properties
In addition to its culinary properties, agoureleo has long been known for its health benefits. The ancient Greeks called it "omotrives" or "omfakio". Hippocrates, the father of medicine, admitted that Agoureleo olive oil is useful in more than 60 diseases.
Modern medicine also recognizes the healing properties of olive oil: it lowers cholesterol, protects against cancer, is ideal for liver function and is ideal for diabetics and heart disease.
This olive oil contains fatty acids, mainly oleic acid (A-9) and linoleic acid (omega-6), alpha-linolenic acid (omega-3) and arachidone (C-6), hydrocarbons, mainly squalene. Contains sterols (especially beta-sitosterol), alcohols and carotenoids such as xanthophylls, carotenes, lycopene and beta-carotene (vitamin A).