Capris Cuvee 3L
SKU:
VINA705455
EAN:
3830000705455
Brand:
VinaKoper
Unit:
pudel
Qty:
In Stock
Capris Cuvee, Sec, poolkuiv 3 liitrit
Seda pudelit ei ole võimalik tellida postiga!
Variety: Malvasia, Chardonnay, Binot Blanc
Soil type: Eocene flysch, marl and sandstone 
Location: Škocjan, Sečovlje – Eocene flysch, marl and sandstone 
Grape harvest: by hand, late August
Winemaking: Temperature-controlled fermentation at 16°C according to the white wine production technology, and secondary fermentation according to the Charmat method in pressurised tanks.
Aging potential: up to 3 years
Colour: Brilliant, golden yellow colour with light green reflections. Intense sparkle and plenty of bubbles rising in fine beads.
Aroma: The characteristic freshness and aroma derive from the Malvasia variety which delivers an intense floral and fruity bouquet dominated by scents of acacia flower, tropical fruit and green apple.
Taste: Delightful, fresh and charismatic, all attributes of the Malvasia variety that after secondary fermentation develops a gorgeous and aromatic finish with a slightly sweet aftertaste.
Food and wine pairing recommendation: A fantastic aperitif. Best enjoyed on its own in good company or paired with seafood dishes, cold starters, light pasta and risotto, poultry, fruit, and so forth. It is also excellent for making sorbets. 
Opportunities: Celebration, Romantic dinner, Gift, Socializing
Serving temperature: 6–8 °C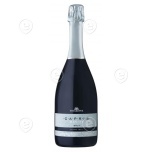 Capris Marine Brut 2019 luksuslik vahuvein, 3,0L
Seda 3 liitrist pudelit on valmistatud kokku 150
Seda pudelit ei ole võimalik tellida postiga!
SKU:
VINA701273 ,
EAN:
3830000701273 ,
Qty:
In Stock
,
Color:
119,00 €