Special price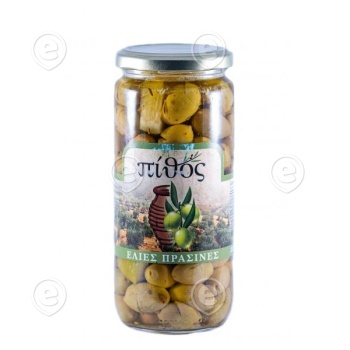 Zoom
"TSAKISTES" Olives with lemon 300g
"TSAKISTES" Olives with lemon 300g
Calomon green olives with lemon.
Features: handmade, special order, made according to Terje's recipe, seasoned and made according to the recipe.
Origin EU, producer Aggeliki N. Karkali-Mitsakou family company

Ingredients: Calomon green olives, salt (sea), water, first cold pressed olive oil, paprika, fresh lemon juice, herbs

Average nutritional value per serving (serving: 2 olives ≃ 15g): Energy ≃ 32 kcal, proteins ≃ 0.3g, carbohydrates ≃ 0.7g, of which sugars <0.01g, fats ≃ 3.1g, of which saturated fatty acids ≃ 0.5g , fiber ≃ 0.5g, sodium ≃ 0.19g

Store in a cool, dark place. Best before: see package

Greek product. Processing and packaging of olives: Aggeliki N. Karkali-Mitsakou, Greece.

Who knows and knows best Greece, the Greeks, the Kalamata region, the secrets of olive oil, the olives themselves…?
Still Terje, because love is the beginning of many journeys, so the journey of one Estonian as a volunteer in southern Greece is no different - a new page in life .
.... and life is simple - you just have to love the land, the sun, the animals, embrace the local rhythm because olive growing lives in its own rhythm. Believe it or not, the best cold press oil stores love, care and health. Terje knows that. He can talk about olives and oils for a long time because that's something he wants to offer you. The best, the highest quality and what the Greeks themselves value from generation to generation.

Terje olives are a quality you can't doubt!

The first cold press oil pressed under the watchful eye of Terje is the highest class in the world of olive oils!
Balsamico with pomegranate is the king of salads, which Terje has contributed to!
Every beginning starts with a step and so begins a novel that lasts for the rest of your life!