Out of stock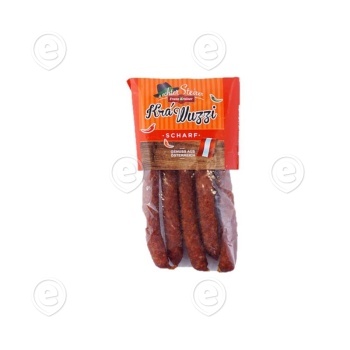 Zoom
Salaami sticks with chilli 80g
SKU:
STE43175
EAN:
43175
Brand:
Krainer
Unit:
pakk
Qty:
Out of Stock
Salami sticks with chilli 80g
Ingredients:
pork, beef, bacon, salt, spices.
Average nutritional value per 100 g of product:
energy 1760kj / 452 kcal
fat 36g, of which saturated 15g
carbohydrates 0,5g, of which sugar 0,5g
protein 24g
salt 2,5g
Origin EU, producer Austria
The universally known and popular salami is characterised by selected pieces of meat and bacon. After careful maturing, the classic blend of seasonings produces this popular house salami. Finely cut up into a "contractual" portion, this quality product means you always open up a fresh/new packet.