Out of stock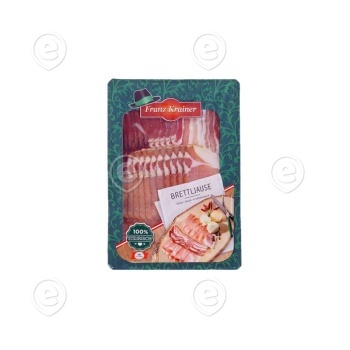 Zoom
Brettljause 150g ( 50g Schinkenspeck, 50g Karreespeck, 50g Bauchspeck
SKU:
STE51161
Brand:
Krainer
Unit:
pakk
Qty:
Out of Stock
In the Styrian Brettljause you will find the popular raw bacon 50g , belly bacon 50g and tender pork bacon. Simply delicious!

1. Loin bacon tender-fine-lean 50g
The finest piece of pork, the loan, is seen as a particularly fine delicacy. As is Krainer's loin bacon: It is first dry salted, then air-dried and then matured for 4 months.
The result: a wonderfully tender, fine and lean loin bacon!
From the best pork piece; tenderloin delicacy. Air-dried (canned) bacon is covered with salt and left to air dry.  
The maturing period is 4 months.
Serve in thin slices, slices. We recommend with Refošk wine
Ingredients:
pork, salt
Average nutritional value per 100 g of product:
energy 825kj / 196 kcal
fat 5g, of which saturated 2.2g
carbohydrates 2.2g, of which sugar 1.6g
protein 36.0g
salt 6.0 g
Origin EU, producer Austria
2. The "Rohhamburger"
is produced from selected, lean pieces of bacon.
The raw produce is cut to a certain specification so that a rectangular form is guaranteed.
Dry curing with the finest of seasonings in interaction with the smoking process and a maturing period of more than 4 weeks makes this product appear unique in its characteristics.