Out of stock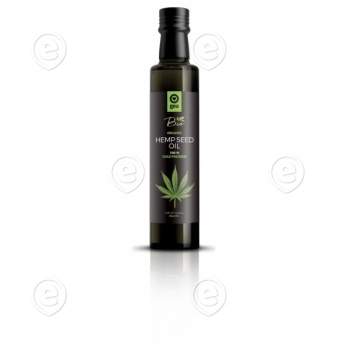 Zoom
BIO Hemp seed oil 250ml
SKU:
GEA147750
EAN:
3830000147750
Brand:
Gea
Unit:
pudel
Qty:
Out of Stock
BIO Hemp seed oil 250ml
Ingredients:
100 % cold pressed hemp seed oil,  organically produced

Characteristics:
Obtained by cold pressing only by mechanical means the best-quality organically produced hemp seeds (Cannabis sativa)
Has full flavour and gentle nutty taste
High content of essential fatty acids, with great balance of Omega 6 – Gamma-linolenic acid (GLA) and Omega 3 fatty acids – Alpha-linolenic acid (ALA)

Average nutrition value per 100 ml
Energy 3404 kJ/ 828 kcal
Fat 92 g
of witch:
- saturates 8 g
- mono-unsaturates 13 g
- polyunsaturates 71 g
Carbohydrate 0 g
- of witch sugars 0 g
Protein 0 g
Salt 0 g
Omega 3 fatty acids (alfa-linolenic acid) 17 g
Omega 6 fatty acids 54 g
of which
- linoleic acid 50 g
- gamma linolenic acid 4 g

Usage and storage:
Recommended as a supplement for preparation of cold dishes (salad dressings, pasta sauces, spreads, sauces), cooked dishes, bread dough, cakes and other sweets, such as ice cream dressings.

Store in a cool and dark place in original packaging. Keep refrigerated after opening. Oil may appear cloudy or have visible sediment. This does not compromise quality.