Special price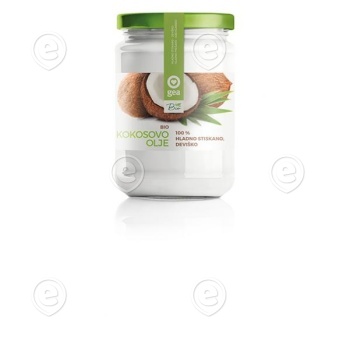 Zoom
BIO Coconut oil 500ml
SKU:
GEA120309
EAN:
3830000146838
Brand:
Gea
Unit:
purk
Qty:
In Stock
Bio Coconut oil 500ml
Ingredients:
100 % cold pressed coconut oil, organic, virgin

Characteristics:
Produced through the process of cold pressing the kernel of a freshly picked and organically grown coconut
Pleasant flavour and a strong coconut aroma
Composed of saturated medium-chain fatty acids and does not include trans fatty acids
Contain 50 % lauric acid which is converted into mono-lauric acid which has antiviral and antibacterial properties

Average nutrition value per 100 g
Energy 3700 kJ/ 900 kcal
Fat 100 g
of witch:
- saturates 94 g
- mono-unsaturates 5 g
- polyunsaturates 1 g
Carbohydrate 0 g
- of witch sugars 0 g
Protein 0 g
Salt 0 g

Usage and storage:
Due to the composition of the fatty acids, Gea organic virgin coconut oil is exceptionally stable at high temperatures, making it suitable for baking, frying and cooking. And thanks to its exotic aroma it enriches soups, sauces and desserts. It is an excellent addition to chocolate and ice cream, as well as various drinks and smoothies.

We recommend using it in smoothies for a wonderful flavour, additional nutritional value and for excellent immunity booster.
It can be also used for hair and skin care.